Monday, April 23rd, 2012

Night Sounds, Pt 8 – Raccoons
The Northern Raccoon (Procyon lotor)  is wide spread through much of North America. It is also the most frequently recorded of any mammal that I record remotely with my recorders.
Raccoons are very prone to scuffle and fight with one another as they travel nightly through their territory.  Where ever I leave recorders they are visited almost every night by these curious animals.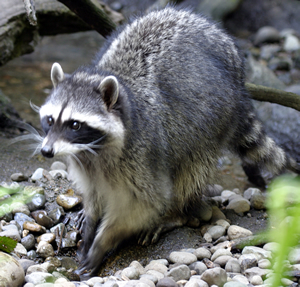 I took this photo of a Northern Raccoon in the rain forest of the Olympic Peninsula, Washington.
Raccoons make a very wide variety of odd sound.
The following sequences are a variety of sounds made by the Norther Raccoon.
File # 28 - 2012.04.09_Raccoon_01.mp3
File # 27 - 2012.03.20_Raccoon_02.mp3
File # 26 - 2012.03.20_Raccoon_01.mp3
File # 25 - 2012.03.13_Raccoon_01.mp3
File # 24 - 2012.03.01_Raccoon_01.mp3
File # 23 – 2012.01.30_Raccoon_01.mp3
File # 22 – 2012.01.24_Raccoon_01.mp3
File # 21 – 2012.01.23_Raccoon_01.mp3
File # 20 – 2012.01.04_Raccoon_01.mp3
File # 19 – 2011.12.29_Raccoon_02.mp3
File # 18 – 2011.11.11_Raccoon_01.mp3
File # 17 – 2011.09.27_Raccoon_01.mp3
File # 16 – 2011.09.22_Raccoon_01.mp3
File # 15 – 2011.09.21_Raccoon_01.mp3
File # 14 – 2011.06.04_Raccoon_01.mp3
File # 13 – 2011.01.26_Raccoon_01.mp3
File # 12 – 2010.11.13_Raccoon_01.mp3
File # 11 – 2010.10.28_Raccoon_01.mp3
File # 10 – 2010.10.18_Raccoon_01.mp3
File # 09 – 2010.04.28_Raccoon_01.mp3
File # 08 – 2010.03.29_Raccoon_01.mp3
File # 07 – 2009.11.04_Raccoon_01.mp3
File # 06 – 2009.10.05_Raccoon_01.mp3
File # 05 – 2009.06.03_Raccoon_02.mp3
File # 04 – 2009.06.03_Raccoon_01.mp3
File # 03 - 2007.06.22_Raccoon_01.mp3
File # 02 - 2007.01.04_Raccoon_03.mp3
File # 01 - 2007.01.04_Raccoon_02.mp3